SD800 Sealed Frequency Inverter (IP54 water proof, dust proof)
Brief Introduction:
This SD800 sealed frequency inverter is enhanced version of AD800 series frequency inverter, built in with IP54 protection grade. With excellent in anti-dust, water proof, anti-grease and anti-corrosion properties, the SD800 sealed inverter is widely used in printing and dyeing, textile, cement, coal, ceramics industries and other harsh industrial conditions with heavy dust, moisture and high temperature.
Specification, voltage rating, power rating
220V (single-phase power) 0.4-2.2kW
380V (three-phase power) 0.75-30kW



Key product features.
● High performance flux vector control for IM and PMSM
● Excellent quick response with vector control
● High starting torque even under low speed.
● Torque limit for machine safety protection
● Rapid current limit, up to 20 kinds protection function.
● Latest generation Infineon IGBT modules using
Outstanding motor control performance
● Torque respond speed ≤5ms in OLV without PG
● Wide input voltage range, and work above 45℃ is available
● Outstanding overload capacity, 150% rated current for 60s, 180% rated current for 3s, 200% rated current for instantaneous.
● Speed range 1:100 (SFVC), 1:1000 (CLVC)
● Startup torque, G type: 0.5 Hz/150% (SFVC); 0 Hz/180% (CLVC), P type: 0.5 Hz/100%
● Torque control accuracy, ± 5% (CLVC)
Hardware enhanced features.
1. Ti 's 32 bit DSP ( 28034/35), Germany Infineon intelligent modules;
2. Sealed cabinet, conformal coating on PCB;
3. Adopt using aviation plugs that have good quality water proof, gas and oil proof. (options)
4. Imported high-speed ventilation fan with 24V DC power supply, good cooling effect
5. Lower failure rate and long service lift
Wiring diagram of SD800. ( the same as AD800 series)
It has 5 digital I/O input, compatible sink and source way. (PNP an NPN)
2 Analog input, support -10V to 10V, 0-10V, 0/4 to 20mA.
1 Analog output ( 0-10V/0-20mA is selectable)
2 collector output ( FM and CME support the high pulse output).
1 relay output.
Extension PG, I/O card are available.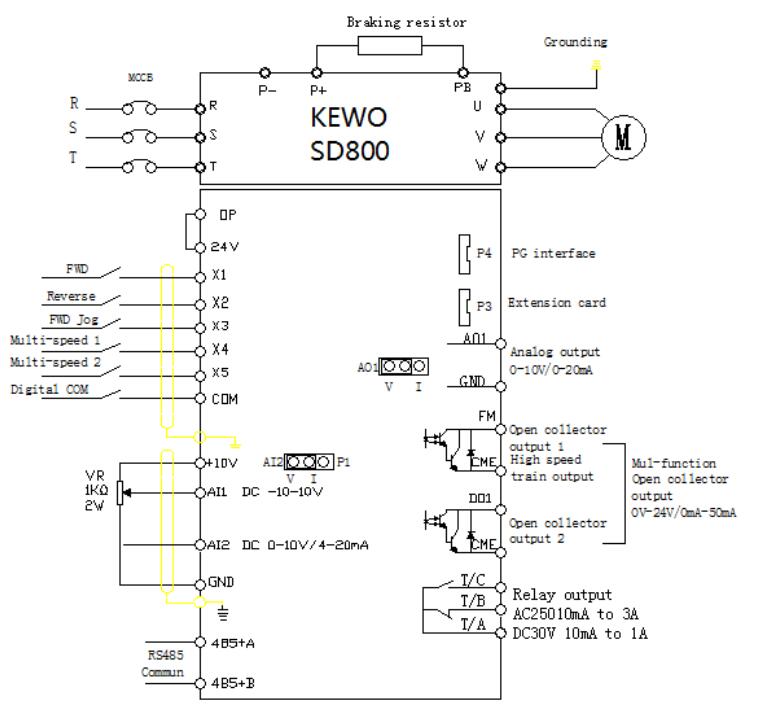 SD800 Sealed frequency inverter external and installation dimension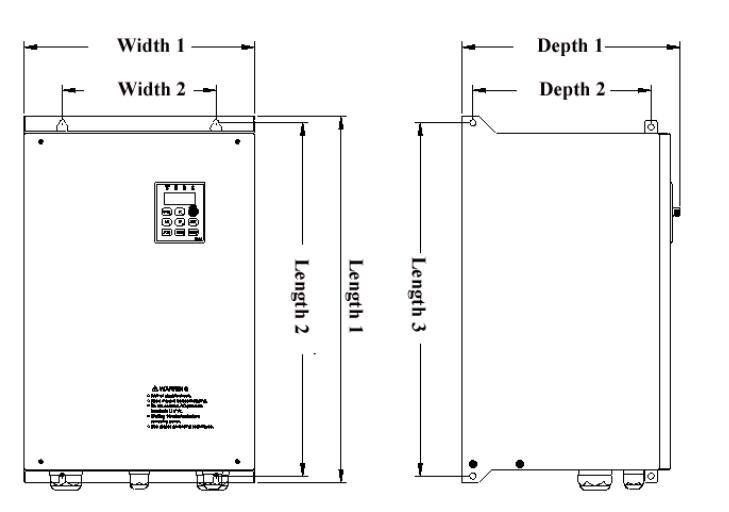 Models
Power
L1
W1
D1
L2
W2
L3
D2
SLOT HOLE
External size
Install size 1
Install size 2
SD800-4T0.7/3.7GB
0.75-3.7kw,380V
230
130
177
215
90
215
140
M5
SD800-4T5.5/7.5GB
5.5-7.5KW,380V
320
180
210
305
120
305
170
M5
SD800-4T11.0/15GB
11-15kw, 380V
390
230
225
375
160
375
180
M6
SD800-18.5/22/30G
18.5-30kw, 380V
390
230
225
375
160
375
180
M6
Applications
Metal processing, CNC tooling machine, cable drawing machine.
Boiler air blower, induced draft fan, exhaust fan
municipal Construction , HVAC
circulating water pump, Fill pump, fuel delivery pump
papermaking equipment, chemical industry, pharmaceutical industry, textile industry